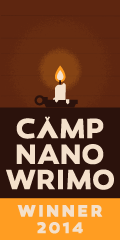 It's official – I successfully completed my goal of 10,000 words on my work in progress, The Fifth Anchor, since July 1st. This brings the total word count over 25,000.
While this may not seem like a lot to some writers, it gave me a huge boost of oomph on my story and the drive to complete it. That right there is worth its weight in gold. Or books, rather.
I think there is another 10,000 – 15,000 words on this story. I'm hoping to wrap up a first draft in another month. That's the great thing that Camp NaNo helped me with – consistency. I'm going to continue on the pace that I started in July until this story is finished. Luckily I have another fellow camp buddy to keep me accountable.
Write on, dear ones. The story will only finish if you make it happen. I'll keep the candle lit for you.