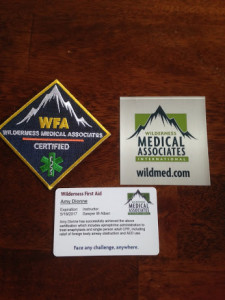 This past weekend I pushed well out of my comfort zone and became certified in Wilderness First Aid. Hosted by L.L. Bean and conducted by Wilderness Medical Associates, this was the basic course. Well, anything but basic to me – it was two days packed full of medical knowledge.
I became tired of wondering what I'd do if something happened. I enjoy spending time out in the woods. Hiking, horseback riding, snowshoeing are some of my favorite activities. Every time I thought about something happening or coming across a situation I couldn't handle, I'd get a twitch in my neck.
The other aspect is I've always been a bit squeamish around blood or emergency situations. I'd freeze or feel faint. I knew it was time to face my fears head on. I had a few helpers in my corner – a friend took the class with me, and I had another friend who I texted all weekend. Between the two of them, and the other women in the class, I figured I'd be fine. With some deep breathing and encouragement from my friends, I was.
What I primarily learned:
I'm capable
I like knowing I can help others
I now have a solid plan to use any time something happens
Do I know what I will truly be like in an emergency? No, but I have faith and confidence in myself now that wasn't there before. That is worth its weight in gold.
What are you afraid of? What will you do to lessen those fears and not let them paralyze you?