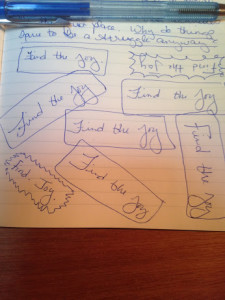 An online buddy of mine posted recently about his decision to quit fiction writing. He was depressed and miserable trying to push though the struggle to force words out. Of course people came out of the woodwork to tell him to stick with it, that it will get better, that he should try a, b, or c. What he has figured out though, is that if something is causing you heartache and misery, even if you love it, then it's time to let go. It's not right at this point in his life.
This has nudged me to look at much of my life and some of the same struggles I've been facing lately. Many of the areas of my life which I love completely, have been more challenging than they should be. I'm tired of being drained by the things that should be building me up instead. I'm not going to give up what I love, but I'm realizing it's time to revamp my approach. Find a new rhythm, a new dance. Find the joy.
Horses
Anyone who knows me realizes I've loved these animals since I was young. I walk into a barn and it feels like home. I love the soft noses that nuzzle and the sweet gaze that follows me around. However, after being thrown, leasing horses that weren't right for me, riding with folks that have different focuses and styles than I do, never regaining my confidence and not having the right fit for instruction and philosophy for me, I'm rethinking my approach. I appreciate everyone that I've worked with and those that have helped me along the way.
I need to keep seeking the right approach/fit/style that works for me. Currently that means taking a break and easing back into the horse world slowly. Not trying so hard. Finding the enjoyment of just being with these magnificent animals. Putting aside goals, even the one to have my own horse, until I've found the joy again. Letting a natural fit happen instead of trying to force it.
Crafts
Ah, yes. Another love. I have made everything from art quilt wallhangings to full sized bed quilts to wedding gowns, creatures and bags and costumes. If it's fabric, I generally can figure out what to do with it. I also love paper crafts and have dabbled in crochet.
It was natural to try and turn those creative ventures into businesses. I did for a while, first doing the craft show circuit for a couple of years, then an Etsy business online. Although I learned a lot from both, and had fun, they were failures. Why? Lack of business experience/knowledge notwithstanding, the bottom line is that I hate production work. I prefer to work on one of a kind pieces that I can really get into. Plus working full time really puts a crunch on the preparation time needed for shows. So, I shut the businesses down, and besides the immense relief at not trying to prepare for craft shows or produce inventory for an online store, asked – now what?
Now what, indeed. I'm trying to learn how to create just for myself without thinking of sending the piece somewhere or needing to make multiple for sale. It's harder than I thought it would be. I'm trying to finish some of the projects that were set aside in favor of production. I'm finding I love creating for friends, family, and exchanging work with other artists.
Writing
This is the hardest for me to talk about. From the second grade, I knew I wanted to be a writer. Growing up and into college, I took workshops and classes. Wrote poetry and short stories. Alternated between hearing that I was a brilliant writer, or I sucked. Listened to those stupid, annoying, and wrong people that said I sucked, and didn't write for ten years. The stories wouldn't let me go though, and with a nudge from my best friend – ok, actually a push – I jumped back into the world of stories.
I'll admit that I haven't finished any of them yet. There are eight total, all carrying varying degrees of weight around in my head and heart. I realize part of it is still dealing with my friend's passing, as she was a constant catalyst for forward motion. And my beta reader. And the one I gave my work to first with complete trust. Finding that inspiration to write again is challenging.
The other aspect to all is the desire to fulfill my dream of becoming a full time writer. I'm realizing that all it's doing is putting pressure on my stories – are they clever enough? Am I showing, not telling? Are the characters real and developed? Do the plots zing? Is there enough humor in the writing? And on, and on, and on. It's enough to drive a writer mad and stop the creative flow. Performance anxiety, or something of that nature.
The only way to stop the pressure it to dissolve the dream. Take away the parameters, and the cage, that my writing is surrounded by. Decide not to care if I ever publish anything or if anyone besides me reads my work. Let it go. Does that seem counter intuitive? Perhaps, but it is the only thing that makes sense. I've tried everything else. I've listened to advice, followed it, tried other ideas, discarded them. The only thing left is to just let go.
It's actually a freeing thought rather than a disappointment. My terms for creativity is that there are none. I'm not giving up creativity – it's a part of my very essence. To be clear:
I am a horsewoman
I am a crafter
I am a writer
Just on my terms, and without the pressure. I am joy.