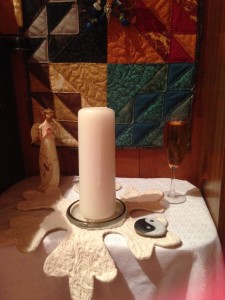 I come to the goddess imperfect,
Wounded, dragging baggage behind,
Tears leaving streaks,
Through dirt on my face.
Heart weighted with black memories,
Options lost,
Connections ignored,
Heart weary,
Sorrow filled soul.
The goddess does not acknowledge,
Does not ask about the journey,
Does not ask about the open wounds,
Or the scarce healed scars.
She speaks with ancient knowledge –
I do not ask
I've felt each lash endured, self inflicted or not.
She gazes upon me, resplendent, whole,
Answers my unasked questions.
Daughter, while I felt your pain,
I did not let it linger
I felt each hurt and honored it.
Each a chance to grow.
Scars mold who you are
Learning molds who you become.
Know the past, but
You are not there.
What will you do now that you've arrived?
Your journey led you here
To the well of renewal.
Do not walk that path again
For recognition,
Walk beside me now.
We shall go forth healed,
The present will lead you forward.
Walk with me.
And I do.
Amy Dionne, December 2014