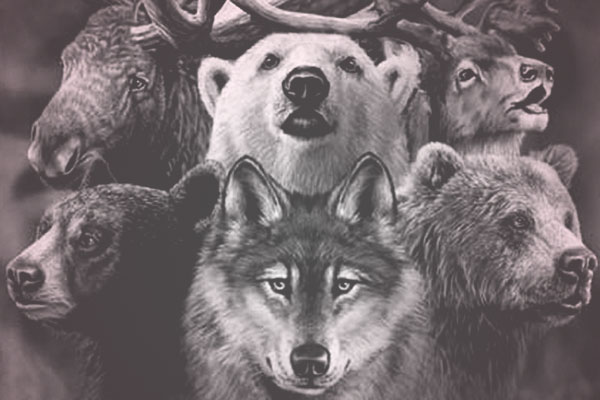 I've had a number of people ask me about connecting with spirit animals, which is what inspired me to write this post. I'm no expert, but I've done a fair amount of research and believe myself to be at least a competent interpreter of messages from the spirit animal companions. I hope you find something useful from this post, whether you are a follower of the spirit animal concept or not. Feel free to reach me at the connections on my contact page if you have any questions.
Why?
The main question is – why does it matter? They're not real (at least in physical form anyway…), so what purpose does it have to try and connect with something that's not in corporeal form?
They make you stop and think.
You have to connect with the outside world and observe nature and its interactions.
Using the presence of a spirit animal can help in times of crisis, sadness, or heightened emotion. What you've learned by studying the relevant animal may be the catalyst for handling a situation calmly or finding the will to move forward. Alternately, studying an animal with grace, beauty, and power may help translate to your own life.
Finding your Spirit Animal
There is no one right way to figure out your spirit animal. There are many books and decks that highlight the relationships – I generally use Ted Andrew's Animal Speak, and Medicine Cards. There are also fun online quizzes (yeah, we know not to hold too much belief in what the internet says, right?) along with a great number of knowledgeable people. Specifically, those in Native American cultures, Shamanistic roles, or pagan paths often use animal connections as part of their belief systems. Many are quite happy to talk about such things with people that have an open mind.
Recognizing when animals show up outside of their normal realms is a critical part of determining your connection with them. There are birds and insects and small critters around constantly. What if they show up at the same time or place every day for a period though? It's not coincidence that animals chose to reveal themselves to you.
Look for the not so obvious animals. Yes, it's easy to want to pick a "cool" animal like the wolf, eagle, or bear, and while those are legit and awesome spirit guides, remember that sometimes the not so obvious ones have just as much to teach us. There's a great deal of wisdom to be found with animals such as mice, rabbits, and turtle guides.
What animal keeps showing up for you? Is there an animal that shows up often when you commute to work? Or shows up online constantly? In your dreams? The snow leopard was like that for me. After continuously showing up in my life – through artwork and social network feeds, it finally occurred to me with a nudge from a friend that the snow leopard was trying to speak to me.
What animal makes sense? What animal feels right? Your gut feeling is your best guide after you've done all the research and pulled the cards.
Utilization
So you find your spirit guide, or think you have anyway. What's next? Couple of things to keep in mind:
Spirit animals come and go, depending on what you need to learn. There are some that are always with you, but many guides may only be around for a time.
Apply their teachings. What's going on your life? What do you need to prepare for? How are you handling whatever storms are being thrown your way? Do you need to let loose and have some fun, or build your storehouse for the future? Do you need more connection with others or to be more solitary?
Determine how multiple animals are working together, even if they feel somewhat contradictory at first.This is a difficult aspect to learn. An example is – both a predator and a prey animal appear as your guides. How do you reconcile the obvious contradictions? What aspects of each animal do you need to focus on, and how do they work together in life's circle?
Resistance
 As important as finding out which animals resonate with you, is finding out which ones do NOT. And why. Are you resisting because you don't want to admit that the spirit guides are showing you areas you may be weak? Are you ignoring parts of your life or your character that need addressing? The message that these animals have to tell you is important. Do not ignore them just because you don't want to hear what they have to say. The message will manifest in one way or another until you learn what they have to teach.
Journey
Embarking on a journey with a spirit animal is a challenging and rewarding task. It teaches us to listen, to be open, and to apply what is said to our lives. Doing so can help improve your connection to the world. There's a lot to be learned about relationships with others, and with yourself, by spending time with your guides. They strip away all that which is hidden in human interaction. Animals are honest, and clear in a way that humans have forgotten how to be. We can learn from that.
Enjoy your journey as you determine your animal guides. If you have questions along the way, don't hesitate to ask.