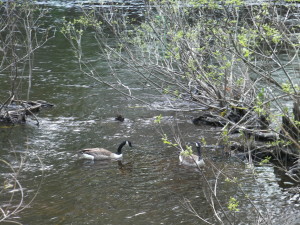 Grief sneaks up in unexpected moments. Yes, it's full and present during the obvious times of shock, and wakes and funerals. Where it truly lives though is after the flowers have wilted and the food storage containers are back to their owners, and friends have stopped calling every single day to make sure you're okay. It's then, in those quiet moments, that grief settles in.
It's not the loud, tear filled grief from before. It's the quiet grip that shows up unexpectedly, while waking or running an errand, or reading a passage that hits just the right chord. In those moments grief wraps around your heart and lungs, where tears may only flow silently, where the pain is at its most real. For a moment it's hard to think about continuing whatever task is laid out before you, because you can't see anymore through the pain.
It does ease, that despair, that clutch of grief, because your loved ones that have gone on want to know you will move forward. They still support your dreams and goals and life even more from beyond the grave.
Honor them by living the life that they couldn't, the one that was cut short for whatever reason. Live fully and love without reservation.
To honor your loved ones, to honor your grief, then simply live.
In memory of Tanya Shersnow and Mark Fisher.
Amy Dionne, 2015