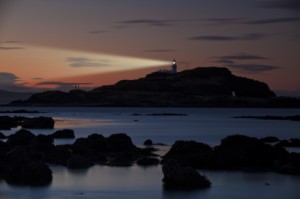 I've finally found a perspective for my writing and my blog to help me focus away from writing with others in mind and writing for myself first. Which all ties into authenticity, and the truth within the words. When I write for myself, the thoughts ring clear and true. When I write with others in mind – their opinions, feelings, considerations – I don't write much, if at all.
In wondering how to combat the constant battle, which leads to stagnation and avoidance of showing up and putting my thoughts on paper, an image came to me. The lighthouse, with its guiding beacon.
Light emanating from the lighthouse lamps does two main things, guides and warns. Well, instead of warns, reveals might be a better term, for without that illumination, the ship's crew may know the danger is there, but not how to avoid it.
The lighthouse exists as a vessel for a light to shine forth. Whether the ships decide to sail into port or move past makes no difference to the lighthouse. From its position on the coastline, the lighthouse sends out its message to the sea, cutting through fog and storms. Providing a haven for those that need it. Just existing.
That is what my writing is. The words that flow no matter the weather, no matter the reaction from others, no matter if the readers bypass my blog or my story for the next one. It is a constant beacon for the weary travelers that need my particular light. A place to welcome them and exchange stories. Or perhaps just highlighting the dangers to a ship that keeps sailing in the night.
Whatever the case or the reason for writing, the point I've learned is that I can't stop. My words, my stories, need to be out in the world whether they are accepted or recognized. It doesn't matter. All I need to do is continue being the constant, just as the lighthouse is. The ships that need my light will find me, even if they are just passing through.
Image courtesy of Serge Bertasius Photography/FreeDigitalPhotos.net