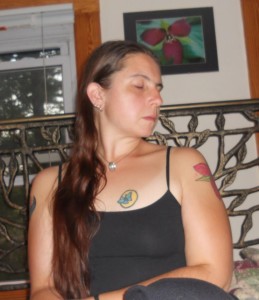 My heart hurts today from the loss of my friend earlier this year. Tanya's birthday is in a couple of days. She would have turned 36. I'm just lost thinking of all the birthdays she won't have. I want it to spur me on to accomplish many of our common goals that she won't be able to fulfill. Being published, becoming a writer full time, continuing our warrior women and earth connection goals. I know I'll do those things we talked so much about, but it hurts to know she won't be by my side.
There are so many things that remind me of her. I'll see a picture of a lake, of a dancer, of a triskele, and my mind instantly says, oh, Tanya would love that! Then I remember she's not there. So I create a little shrine to keep her close, post images on a special For Tanya Pinterest board that remind me of her, and put one word on the page after another, slowly building my stories. I know she wants me to keep writing. I can almost feel her soft touch on my shoulder and her voice saying "don't think, just write"! So I do.
The story I'm currently writing is about angels, and while it has turned into a paranormal fantasy, it started because of an image of Tanya following the goddess to the Summerland. I've been hesitating to finish it, and I think I know why now. Because I miss her, and writing that story is a way to keep her with me a little while longer. Yet, I hear her voice. Don't think, just write! Do it! I know she's with me all the way. So I will heed her words and finish the story, which honors her. Then I will share it with the world.
For Tanya, and for myself.