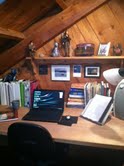 A while back, my life coach (the amazing Lael Couper Jepson from SheChanges), and I were talking about space and its relation to my writing. I kept reiterating about wanting to write and publish my stories for the longest time. She gently nudged me to realize that unless I created the space and the time, it wasn't going to happen. My stories were not a priority until I created that intention and honored my characters by giving them a place to exist. A place that wasn't crowded with crafts or bills or horse magazines or random kitsch. Just my stories.
I thought I'd share the results of that introspection. I now have a comfortable and organized place that I write daily, filled with inspiration and reminders on how to weave the magic into my story lines.
For those burning desires in your heart – have you created the space and time necessary to make them a reality? It makes a difference.