Wanted to show off a few of my latest craft projects. Now that I've stopped sewing as a business and am doing it just for me, I'm having lots more fun.
First up, a quilted bag to carry my writing and reading materials around in. This is a neat pattern from Lazy Girl Designs. The strap has a zipper so it can be worn as a shoulder bag or a backpack.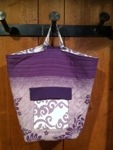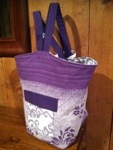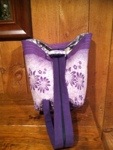 The second item is a bag for my horse riding helmet since the original cover ripped. I used the same drawstring and catch. The old cover became a pattern base, and luckily the helmet fits.